I've owned and used this domain for 20 of my 26 years as a professional domina. What was before DominaM.com? I first registered the site Obey-M.com in 2000 when I was still going by Mistress Morgan. Why the name change? With so many Morgans at the time, my 26-year-old self thought a single letter was somehow edgier. It took me three years to realize that while having a command in the domain name was, in some ways, satisfying, having it my actual name made more sense. I am so pleased now, as finding simple to-type names for social media handles is difficult. I wouldn't want to try to buy this name now.
What did this Obey-m.com look like? It went through quite a few incarnations as my web-building skills increased.
v 1.0 Not GeoCities, but Almost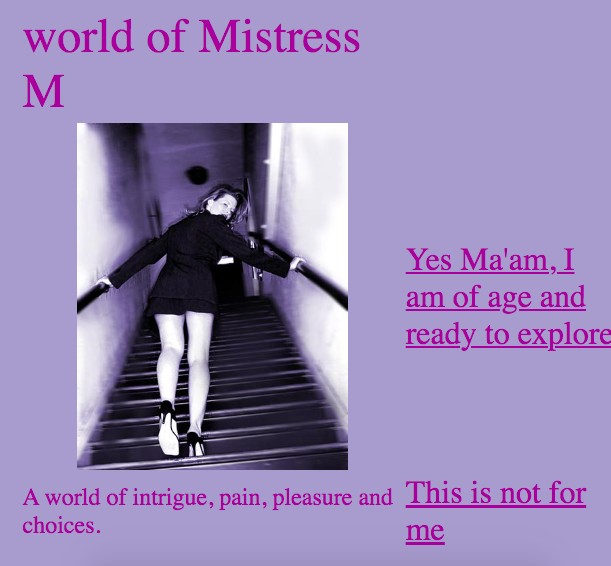 I still remember chatting in ICQ chat with a tech slave, asking him questions so I could hand code this myself and constantly resizing that photo and lowering the resolution so it would reasonably appear on dial-up connections. I can only hope that my legs entering The Halls of Justice on Sunset Blvd make up for the sin of that color scheme. About six short pages and less than 20 photos cost $180 a month to host. It frequently went down for exceeding its bandwidth allowance. Thankfully, I included neither fire nor chain animated gifs.
v 2.0 Some Hustle to the Flow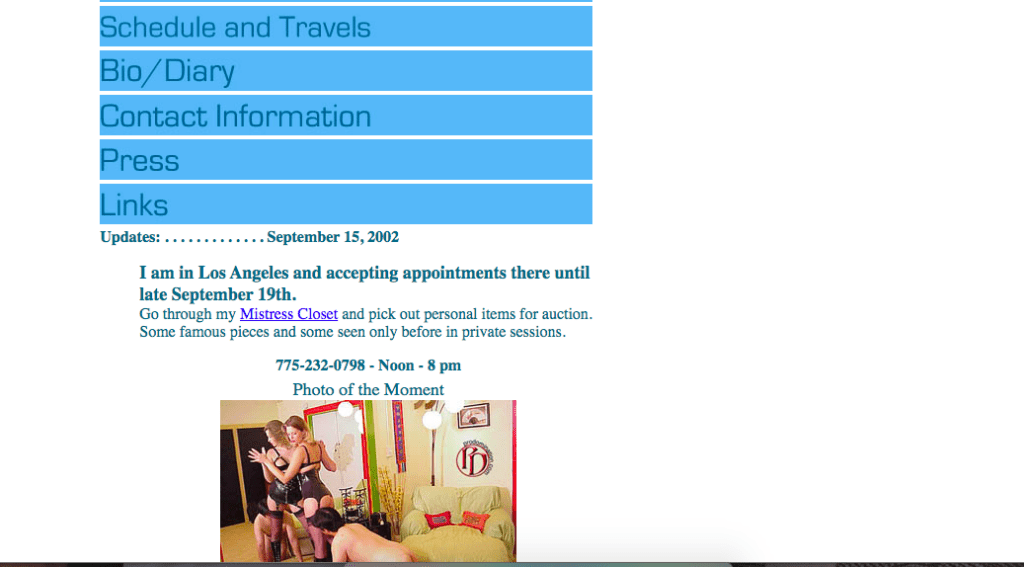 A few years gave me the time to become more proficient with Dreamweaver. It still looks, well, like Dreamweaver. Looking at the photos, I still see the tables and roll-over gif markups. I tried to update the front page with "breaking news" once or twice a week. That's a lot of publishing to HTML and CuteFTP uploads.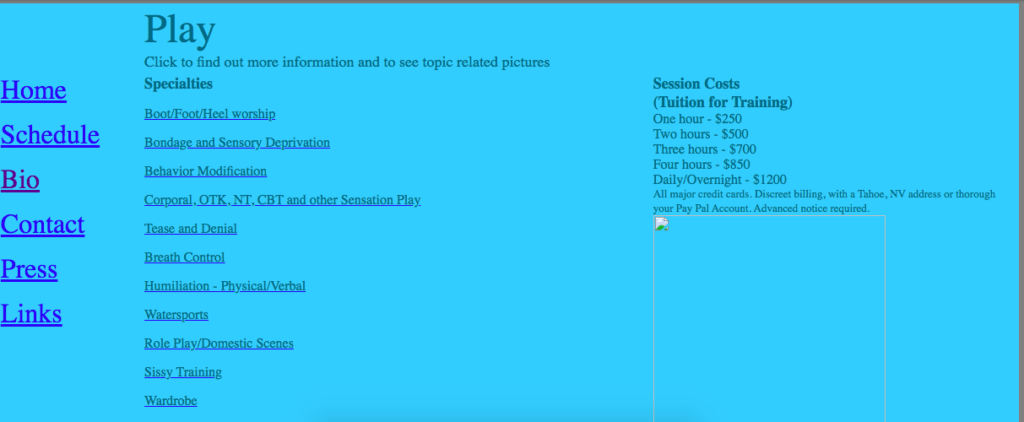 Almost all of the sessions were booked by phone, and I spent a lot of time on the phone answering questions. Many of the things written on the site were to answer frequent questions and (hopefully) to save time on the phone. What do you like? Oh, what is that? What do you have to wear? How tall are you? What size are you? These things dictated the information I brought out. Also, $250 per hour 20 years ago? Rates aren't even keeping up with inflation this way!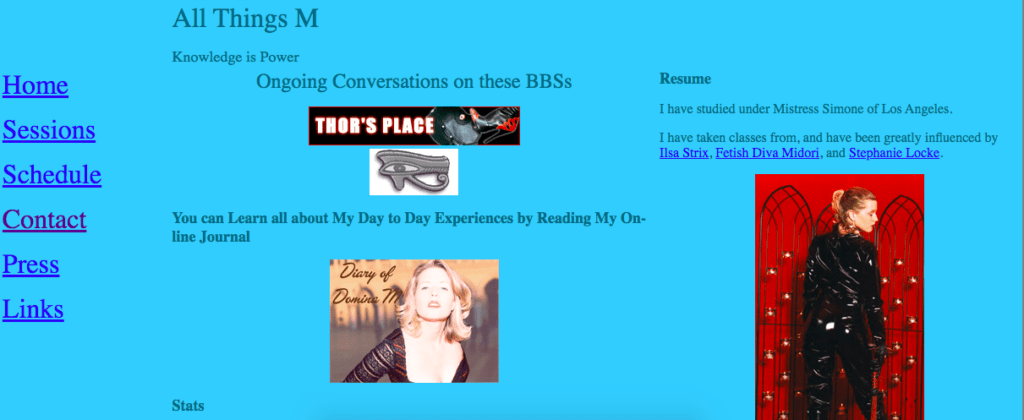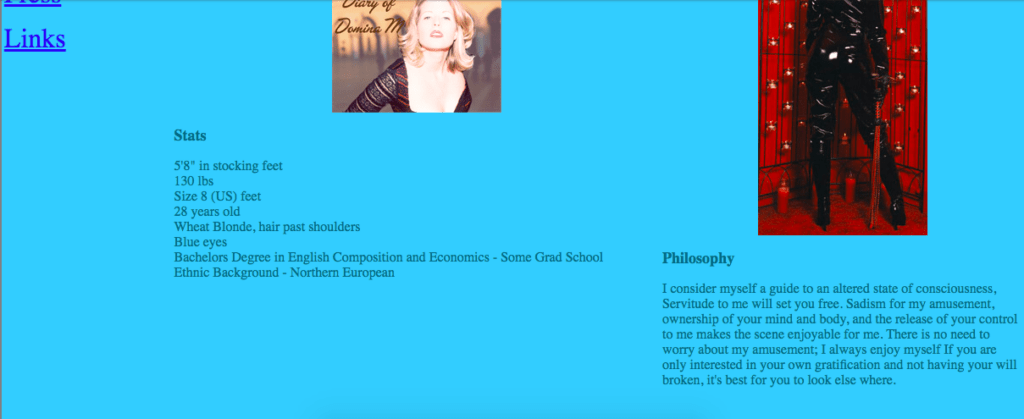 v 3.0 Good Photos and Bad Photoshop Backgrounds
One of the last incarnations of Obey-M featured the first sets of photos I took in New York with Misa Martin and Will Santillo. I thought if I wrote the text into the photos that only appeared in different quadrents of the site when one rolled over the menu, no one could steal my photos or cut and paste my words. Charming how naive I was.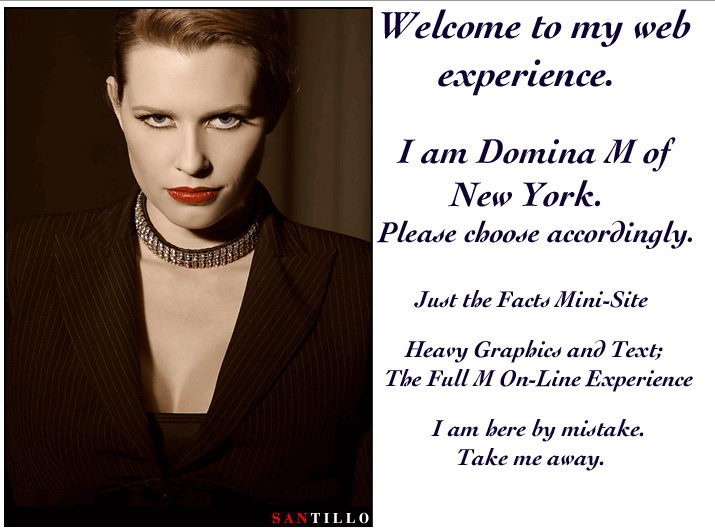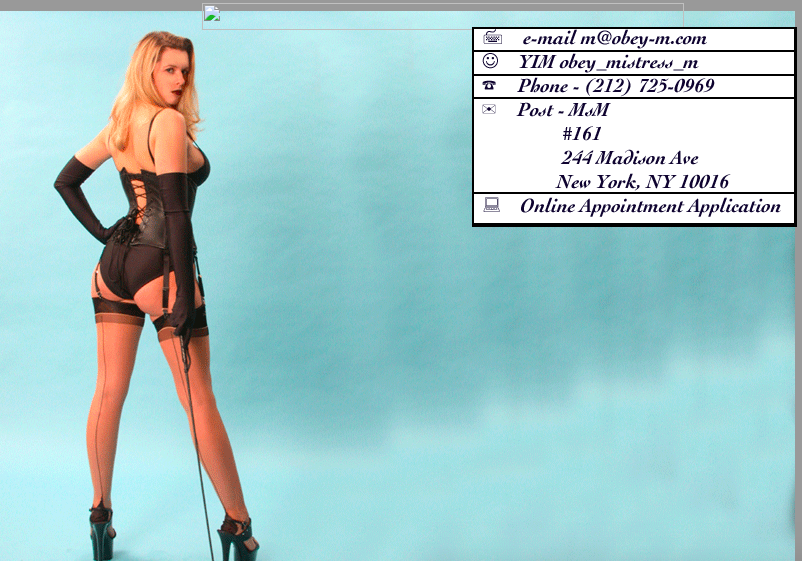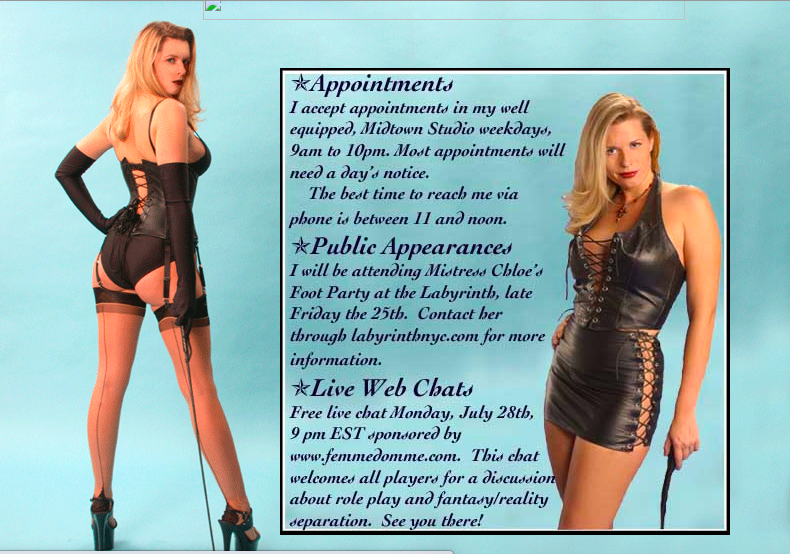 All these photos were screen shotted from the WaybackMachine.