You would be surprised at how many women like pegging. Why? It can be less obvious why strap-on play appeals to women. Let me go ahead and unpack those likes and how men on the (happily) receiving part of the deal can make it a better experience.
According to SexualAlpha.com 1 in 10 women are interested in pegging, and strap-on sales soared 200% in the UK. People are out there pegging. Women are out there doing it. Women speak to me often about penetrating their partner being their fantasy. Straight, cis women must like it. But why? Please take a seat, men; I will demystify it all for you.
Better connection
Few physical acts are as intimate as being inside another person. For all the negativity about being vulnerable, it remains a crucial part of human connection. This kind of intimacy shows you trust your partner, which is not always an easy thing to do. The softening of the receiver's walls, literally allowing someone else into the most vulnerable parts of their bodies, allows for a more emotional connection. Almost always, this side of one's partner is so private and exposed one can't help but feel an exceptional connection.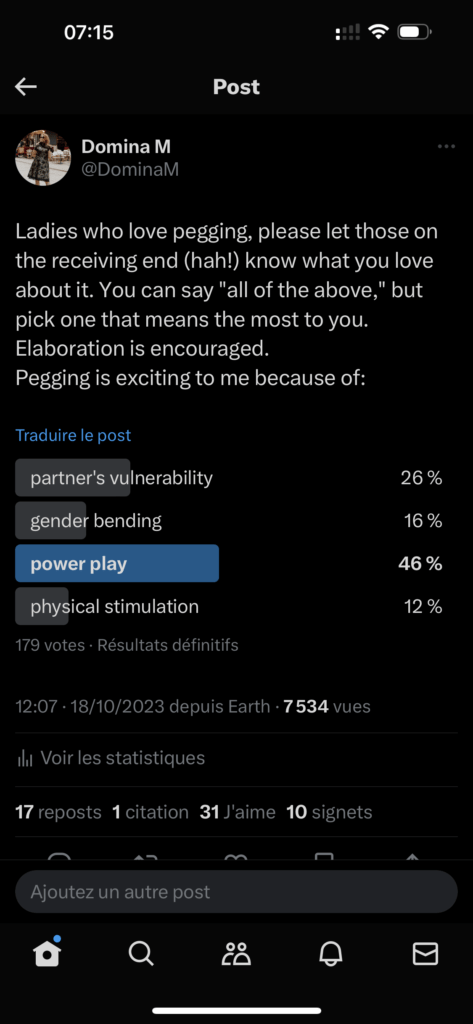 Titillation and taboo
I hesitate to discuss the BDSM or dominance/submission aspect of strap-on play. The person who penetrates is not always the dominant. I know way too many "Power Bottoms." Having said that, there is a rush in bringing pleasure to one's partner. There is a rush in playing with gender fluidity and something to the idea of doing something that, for now, is seen as subversive. It's comical how the response is almost universal when a woman dons a strap-on harness for the first time. "Oh my, I–I need to put this somewhere. Ooooooh, I get it now!"
Regardless of my opinion, a casual poll of my kinky colleagues on the X platform proves that women overwhelmingly voiced that they like to be the active ones in the equation because they feel it gives them power.
Physical sensation
Yes, this is what you are all waiting for; even though the dildo is silicone, there are physical stimulations when using strap-ons. In 2001, the "strapless" strap-on Feeldoe came on the market with a smartly angled, double-ended dildo. The French pleasure vendor, Strap-On-Me, has further developed this idea of mutual pleasure and mutual penetration–again, the taboo and subversion with the vagina facilitating the penetration.
These newly evolved sex toys may add to the experience, but almost any strap-on harness will cause pressure and friction on a woman's pubic mound. Physical, sexual pleasure for women doesn't come just from inside the vagina or direct clitoral stimulation but potentially from stimulating her g-spot externally, which a standard harness does brilliantly.
Of course, women are different with different physical and psychological make-ups and there's no one way to make sure women get their pleasure pegging their partners. There are, however, some tips to make her experience the best it can be.
What can you do to keep her happy and interested?
Hygiene: Preparing for the Strap-on
The number one thing you can do is make your bottom clean, pleasant, and, dare I say, inviting. That means trimming. You don't have to shave, but keeping things neat is a good idea. Learn your way around a bidet or mini enema (available at most drug stores/pharmacies). Fecal matter will happen no matter what, but keeping it to a minimum helps her focus on what she is doing rather than making a mess.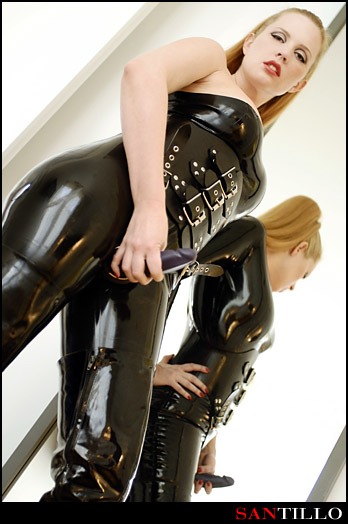 Have plenty of hygiene supplies, such as lube, condoms, and gloves. These things make the experience more comfortable and clean-up easier. Trust me, if your partner has nails, you will need gloves, so don't forget those.
Step back from your fantasies.
Okay, now you've found your Pegging Princess. Give her space to do her thing. Keep from fixating on one thing or one way for her to enjoy the strap-on experience. Of course, you want her to enjoy herself and hopefully return for more. If she needs to go slow (especially if she is new to the experience), let her find her rhythm. If she wants to go fast, well, sir, bring lots of lube. Refrain from grabbing her hands or other insertables, no matter how excited you are. Of course, you can give her feedback. This is a journey you take together, after all.
Don't expect her to have an orgasm. It's possible but not usual. While stimulating your G-spot may give you those life-changing orgasms, she's probably enjoying it on a more mental and emotional level.
Be appreciative
For the woman, most of the enjoyment from pegging is connection and titillation. Expect to reciprocate on some level. Otherwise, she will feel less like your partner and more like your fetish dispenser. Even though women enjoy the act in itself, it is often because their partners enjoy it so much that it brings satisfaction.
If you want to learn more about talking to your partner about strap-on play, I have custom coaching for couples exploring kink.